Driving quality through social value
Whilst not a new concept, social value has always been more difficult to articulate than economic and environmental benefits, which can be more easily quantified and demonstrated. Although social value has no strict definition, we find that a common thread is the direct and positive impacts that can be made as a result of going beyond fit-for-purpose to enact positive social change.
As Architects who shape places for people, our role is to create places that are contextually aware, safe, and uplifting. We strive to communicate our ideas to local communities and stakeholders in a way that everyone can make informed decisions about their neighbourhoods. This drives quality, championing local people and character.
We employ this in our office both in our architectural work and charitable endeavours. With a proven track record of delivering high-quality housing our expertise lies in working closely with communities to find pragmatic solutions to real issues, inspired by our work over the years with International Children Help.
We have distilled the three main pillars of our expertise that local authorities and developers need to think about when building with communities in mind, which are: Local Character, Healthy Spaces and Uplifting Design.
Local Character
Thorough research and understanding of a community are essential in creating buildings that people will support. By responding to nearby buildings and heritage, we can create a sense of ownership within the community, resulting in a more content neighbourhood. Our Strode Road project, for example, incorporated local character into the design, resulting in a beautiful building that was fully embraced by the local population. We incorporated the last remaining wall of the Garnier Signs factory, built in the 1890s, into the design for a residential development that provided 12 apartments and 6 two-storey mews houses on a back-land site. This helped to tell a story about the complex layered history of the area while still providing much-needed, high-quality housing in Willesden Green.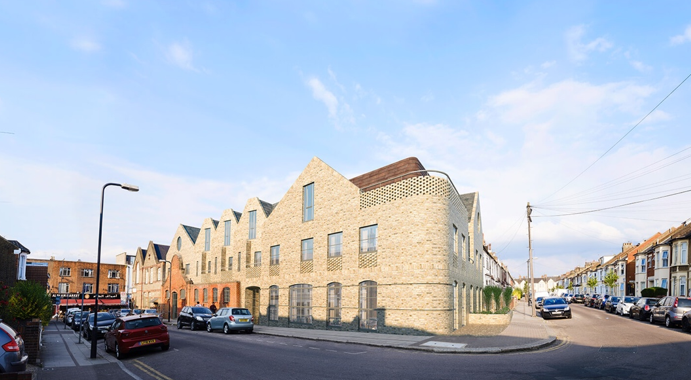 Natural Solutions
People thrive when nature and architecture are in harmony and we strive to create spaces where communities can come together and spend time in a welcoming environment. Our Oxhey project in Watford is an example of how we have successfully integrated the natural environs into our design, resulting in a happier and healthier community. By widening our research, we saw an opportunity prevent the flooding of the local area by reinstating a lost river through the site that had historically been directed underground. This new watercourse became the keystone of a landscape design that prioritises nature, people and play over vehicles, allowing children to safely use the on-site playground under the passive surveillance of residents, without having to cross any roads.
Through this generosity of spirit, we can improve the lives of both the residents who will occupy our buildings and the wider community.
Uplifting Design
Buildings can inspire and positively impact people's lives, whether they are passing by on the street or living in the building itself. Our Church Road project showcases how housing can provide space and light, allowing individuals to express themselves positively. Located on a complex corner site in Ealing, 20 homes and 9 houses are contained across a staggered building arrangement and row of mews houses built using cross laminated timber.
This infill housing development takes its constraints and turns these into uplifting moments, such as double height entrances within the mews houses, and a quiet 'poets garden' for residents. This scheme has since proved popular with residents and the local community, with two successful Open House Events and the Urban Design Officer praising its "well thought out response to a difficult site" and "strong character".
We pride ourselves on our ability to design buildings by appreciating the social value they represent. By working collaboratively with communities and clients, we are able to create functional, sustainable, and beautiful living spaces that truly benefit society. That should be something that we all strive for. As the ancient Athenian quote says: "we will transmit this City not only, not less, but greater and more beautiful than it was transmitted to us."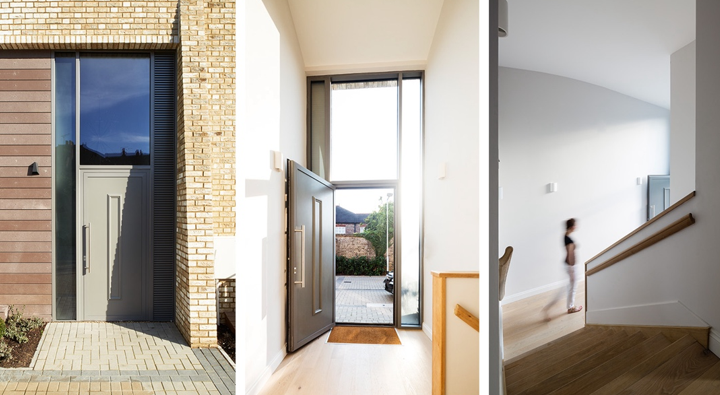 Autor Architecture is on our Multi-Disciplinary Consultancy Services (MDC1) framework. To find out more about our Multi-Disciplinary Consultancy Services (MDC1) framework contact our LHC LSE team.